Biography
Brian R. Wilson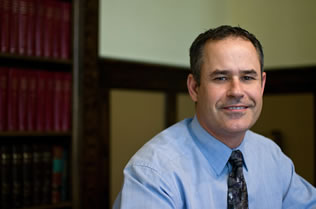 Brian was born and raised in Toronto, OH, a small town on the Ohio River. After graduating from Kent State University (1984) and Akron Law School (1987), he settled in Canton, OH, and has been a practicing Ohio personal injury attorney in Canton, Stark County, and Northeast Ohio since 1988.
Brian has litigated and tried cases to juries in numerous counties throughout Ohio, and has argued cases in numerous Courts of Appeal. Twice he has argued cases in The Ohio Supreme Court (you can view a video of a case Brian argued here).
He has written numerous articles on various Ohio personal injury legal topics that have been published in Ohio Lawyer and Ohio Trial magazines. He has also written articles on Ohio medical malpractice issues on more than one occasion for the Ophthalmology Management Journal, as well as The Akron Beacon Journal and The Canton Repository. For well over a decade, he has frequently lectured and taught legal seminar topics to fellow attorneys for various local lawyers' organizations such as The Ohio Association For Justice, The Stark County Association For Justice, The Stark County Bar Association, and The Mahoning-Trumbull Trial Lawyers' Association.
On two occasions, Brian has testified before The Ohio Legislature to oppose laws restricting Ohio personal injury victims' access to the courts.
Every year since 2007, Brian has been chosen as an Ohio "Superlawyer" by Ohio Superlawyer Magazine, an honor bestowed upon less than five percent of Ohio attorneys each year. In 2009, he received a Distinguished Service Award from The Ohio Association Of Justice. Brian lives in North Canton with his wife Jodi and has two adult sons. He was active for years as a coach with the North Canton Little League and the North Canton YMCA. As for hobbies, Brian's passion is fishing, particularly for walleye, and spends as much spare time on the water as he can: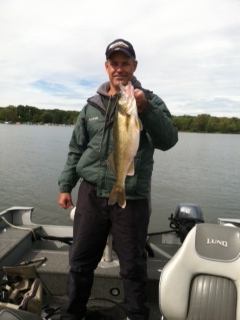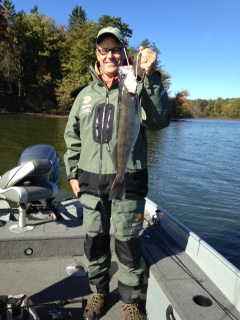 His other passions include vegetable gardening and canning (he may or may not be willing to share a recipe), and is a certified dog lover.
He also admits to being a poor golfer....( thankfully no images available...)